More than 800 pupils from 19 local Surrey schools joined Charterhouse for The Flight Centre Schools Triathlon on Sunday 8 May to raise money for girls' education in Sierra Leone.
£86,061 has been raised so far, and this will be doubled by the UK government as part of Restless Development's Aid Match appeal.
The Flight Centre Schools Triathlon is a national series with more than 6,000 pupils taking part across the country this year. The event at Charterhouse was a truly community centred day, with support also from local volunteers (including pupils from the School), local businesses and over 2,000 attendees coming together for a feel-good event.
This is the second time Charterhouse has hosted the Flight Centre Schools Triathlon which has raised £1.3m since it was launched in 2015. The first time Charterhouse hosted the event was in 2019.
This year, fundraising from the Flight Centre Schools Triathlon will support girls' education in Sierra Leone. Restless Development helps women and girls learn skills such as reading and writing.
Kadiatu was one such pupil who, supported by the charity, was able to learn the skills to set up her own business.
Education makes you self-reliant. When you're educated it exposes you to opportunities and you can turn your life around for the good.
– Kadiatu
Kadiatu's story has inspired lots of fundraising in the Surrey community, showing how the power of education can be life changing. Charlie, Alfie, Oliver and Harry, from 'The 4 Musketeers' pupil triathlon team, had lots of success selling sweet treats at their bake sale. The money they've raised will help girls like Kadiatu shape their own future.
Charlie has the following Fundraising advice for other young people taking part in in the Schools Triathlon;
Get creative and go for it!
– Charlie
The Flight Centre Schools Triathlon is an event which captures the power and compassion of young people. Collectively, the Surrey community has already raised an incredible amount of money, and this number just keeps growing.
Well done to everybody who took part in the triathlon, both as part of a running, cycling swimming team, and also as a volunteer.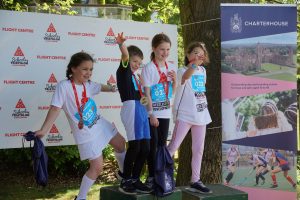 Categories:
Charterhouse
School News