Current Richard Huish College singers Esme Knight and Albert Hacker both saw success in Taunton Young Singer competitions last weekend and were presented their awards by Huish Alumni Claire Barnett-Jones, recent winner at the BBC Singer of the World competition 2021.
The Taunton Young Singer competitions, organised by Taunton Festival of the Arts, took place at Taunton School and were open to singers aged 14 to 18. Entrants prepared a 10-12 minute programme of contrasting songs to perform. Esme who is in her first year at Huish took first prize in the Taunton Young Singer of the Year competition, receiving the Herbert Gouge Cup and winning £150 whilst Vocational Music student Albert came second in the Taunton Young Music Theatre Singer competition to win £75.
Esme and Albert were presented their prizes by former Huish A Level Music student, Claire Barnett-Jones who won the Dame Joan Sutherland Prize, worth £2,500 in the BBC Cardiff Singer of the World competition last summer. Claire progressed from Huish to become a Mezzo Soprano and has featured in Opera performances all around the globe from Frankfurt in Germany to Netherlands.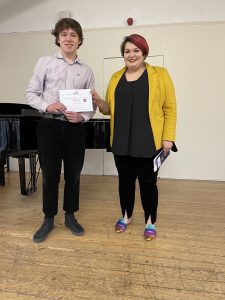 Huish boasts an impressive music facility that opened in 2018, specifically designed for the teaching of Music and to accommodate a wide range of Music EnRICH groups. It is equipped with rehearsal rooms, production suites and recording studios.
Kathryn Foyle, Course Manager of A Level Music at Huish commented "This is a fantastic achievement, we are so proud of Esme and Albert. Our students display an amazing variety of talents, and we are delighted to see the return of these competitions and live music opportunities once again. Huish offers all students a chance to get involved in Music, and we are very fortunate to benefit from our close link with the Guildhall School of Music and often welcome visiting musicians who inspire our students".
Music is thriving at Huish currently, amongst recent successes being celebrated at the College, A Level students James Morrell and Johannah Mathew have both received Oxbridge offers to continue their Music studies at Oxford University in September. Meanwhile, fellow A Level Music student, Arjun Ashok is hoping to follow in Esme's and Albert's footsteps and will be competing in the Taunton Young Musician of the Year competition this coming weekend.
The talented students at Huish will be collectively showcasing their skills in an upcoming concert on April 7th with donations on the evening going to Disaster Emergency Committee Ukraine. The Spring Concert will be the first music concert with a public audience on campus since the pandemic began. Many students have had experience performing to audiences via live streams, at local venues or during the College's theatre production 'Made in Dagenham' that took place in February, however this will be the first time so many musicians will be able to come together to perform a variety of pieces. The concert will feature Jazz and Folk bands, Orchestra, Choir, Big Band and various ensembles.
Categories:
Richard Huish College
School News