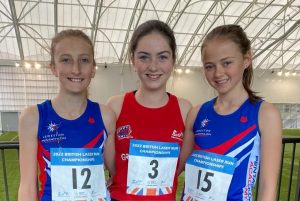 Five athletes from Leweston School have been selected for the Great Britain Laser Run team for the European Championships.
At the National Laser Run in Edinburgh, Leweston had eight pupils make the long trip to Scotland and returned with great success!
In the U13 boys, Charlie O, Year 7 was 7th and in the U13 girls, Katrina S, Prep 6, had a good race to finish 7th.
In the U15 girls, Izzy W, Year 8, had her best pentathlon type event to date to finish 4th with team mates Jessica S, Year 8, 9th, Arisa B, Year 9, 20th, and Evanna B, Year 8, 21st.
In the U15 boys Reuben C, Year 9, had a fantastic race and win with a big margin to become National champion, and in the U17 Archie C, Year 11 just missed out on the rostrum to finish 4th.
Leweston had five students selected for the GB Laser Run team for the European championships: Izzy, Reuben, Katrina, Charlie, Archie with Jessica first reserve in U15.
The next big event for the school pentathlon team will be the Leweston Triathle (shoot-swim-run) on 15 May this event is also a European Qualifier, the European championship's for all these events will take place in Marathon Greece between 26-30 August.
Categories:
Leweston School
School News