BSA webinar – Boarding induction for residential tutors and supporting staff, and visitors, 27.09.21
27 September 2021 @ 2:00 pm

-

3:00 pm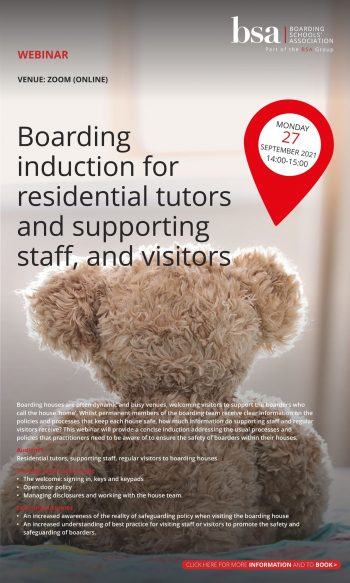 27 September @ 2.00pm – 3.00pm
Course Outline
Boarding Houses are often dynamic and busy venues, welcoming visitors to support the boarders who call the House 'home'. Whilst permanent members of the boarding team receive clear information on the policies and processes that keep each House safe, how much information do supporting staff and regular visitors receive?
This webinar will provide a concise induction addressing the usual processes and policies that practitioners need to be aware of to ensure the safety of boarders within their Houses.
Training topics will include:
The welcome: signing in, keys and keypads
Open door policy
Managing disclosures and working with the House team.
Learning outcomes:
An increased awareness of the reality of safeguarding policy when visiting the Boarding House
An increased understanding of best practice for visiting staff or visitors to promote the safety and safeguarding of boarders.
Audience:
Residential tutors, Supporting staff, regular visitors to boarding houses.
Cost:
Full Member – £60
Additional Full Member – £15
Affiliate Member – £90
Additional Affiliate Member – £20
Non-member – £120
Trainer: Mark Robinson, BSA Senior Consultant 
Mark has a Product Design Degree from Brunel University and a PGCE. His first post in independent education was as Assistant Master at Christ's Hospital in Horsham where he held several positions including Assistant Housemaster to a junior boy's boarding house. After five years he moved on to Ardingly College in West Sussex as a Head of Department and Housemaster to a joint day and boarding house. Mark has been an inspector on boarding inspections, an Assistant Housemaster to a girls' boarding house and fully involved in teaching up to 'A' Level.
In 2002 Mark gave up teaching to set up Mentor Education Services Ltd, a business offering education-related consultancy services to the independent sector, initially training, interview coaching and professional development but also marketing and pre-inspection to schools both in the independent and maintained sector.
Mark was appointed as Assistant Director of Training for the Boarding Schools' Association in 2010, where he continued offering training and consultancy to independent and state schools both in the UK and around the world. In 2017 he was appointed as Deputy Head Pastoral at Collège du Léman in Switzerland, a large international boarding and day school. After gaining some further, valuable international experience, Mark returned to the UK to continue his training and consultancy in the Independent and state school sectors.