BSA virtual day seminar – Preparing for inspection – ISI
29 September 2021 @ 10:30 am

-

3:30 pm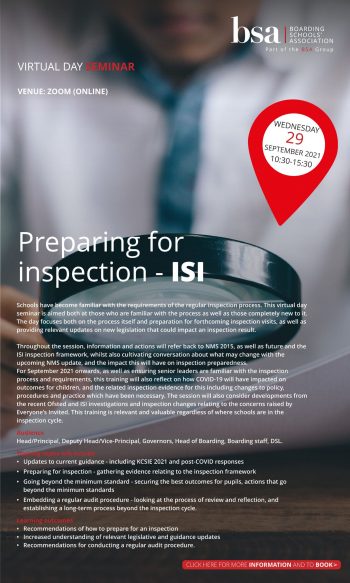 ---
Date: January 13, 2022
Time: 10:30 – 15:30
Cost: Full Member – £135, Affiliate Member – £205, Non-member – £270
Audience: Head/Principal, Deputy Head/Vice-Principal, Governors, Head of Boarding, Boarding staff, DSL.
Platform: Zoom (online)
---
Course Outline
Schools have become familiar with the requirements of the regular inspection process. This virtual day seminar is aimed both at those who are familiar with the process as well as those completely new to it. The day focuses both on the process itself and preparation for forthcoming inspection visits, as well as providing relevant updates on new legislation that could impact an inspection result.
Throughout the session, information and actions will refer back to NMS 2015, as well as future and the ISI inspection framework, whilst also cultivating conversation about what may change with the upcoming NMS update, and the impact this will have on inspection preparedness.
For September 2021 onwards, as well as ensuring senior leaders are familiar with the inspection process and requirements, this training will also reflect on how COVID-19 will have impacted on outcomes for children, and the related inspection evidence for this including changes to policy, procedures and practice which have been necessary. The session will also consider developments from the recent Ofsted and ISI investigations and inspection changes relating to the concerns raised by Everyone's Invited.
This training is relevant and valuable regardless of where schools are in the inspection cycle.
Training topics will include:
Updates to current guidance – including KCSIE 2021 and post-COVID responses
Preparing for inspection – gathering evidence relating to the inspection framework
Going beyond the minimum standard – securing the best outcomes for pupils, actions that go beyond the minimum standards
Embedding a regular audit procedure – looking at the process of review and reflection, and establishing a long-term process beyond the inspection cycle.
Learning outcomes:
Recommendations of how to prepare for an inspection
Increased understanding of relevant legislative and guidance updates
Recommendations for conducting a regular audit procedure.
Audience:
Head/Principal, Deputy Head/Vice-Principal, Governors, Head of Boarding, Boarding staff, DSL.
Cost:
Full Member – £135
Affiliate Member – £205
Non-member – £270
Speaker: Dale Wilkins, Director of Safeguarding, Professional Development and Accreditation 
Dale joined the BSA during Summer 2017 with responsibility for safeguarding and standards. In July 2019 he also assumed responsibility for the BSA's accredited training programme. Dale leads on all safeguarding and inspection matters for the BSA, including managing the Commitment to Care Charter, the Annual Safeguarding conference, and the Safeguarding Forum. He has also developed a process of BSA Accreditation for our overseas members.
For 31 years Dale was a boarding practitioner. After boarding positions at Norwich School and Tettenhall College, Dale became a Housemaster at Old Swinford Hospital in 1992, and was promoted to Deputy Head in 2007, and subsequently also DSL. He has also been a multi-agency trainer for the Dudley Safeguarding Children's Board and has been closely involved in inspection in state and independent boarding since 2002. Dale had previously been a BSA course tutor since 1998 and developed the BSA Self-Assessment Toolkit.