---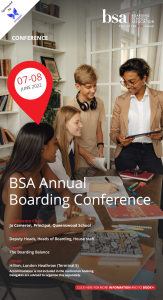 Date: June 07-08, 2022
Time: 09:00 – 16:00
Cost: Full Member – £450, Affiliate Member – £675, Non-member – £900
Cost includes: two-day conference, conference refreshments and formal dinner on the evening of June 07.
(Please note the cost does not include hotel accommodation for anyone wishing to stay over, although more information on nearby hotels can be supplied on request. For the discounted booking link for Hilton, London Heathrow Terminal 5 Click Here.)
Audience: Deputy Head, Head of Boarding, SLT/SMT, Boarding House staff, Pastoral staff
Venue: In person (Hilton, London Heathrow Terminal 5)
---
We're looking forward to welcoming Deputy Heads, Heads of Boarding and Boarding House staff from our member schools to our Annual Boarding Conference, sponsored by Engage, which takes place at on June 7-8, 2022 at the Hilton, London Heathrow, Terminal 5.
Hosted by Jo Cameron, Principal of Queenswood School, the theme for the conference this year is 'The Boarding Balance'. Over the two days, we'll be looking in detail at a range of related subjects including 'The adolescent brain: balancing hormones and risk'; 'The safeguarding balance'; 'Balancing online vs real world'; 'Balancing UK vs International', and much more.
This will be our second face-to-face conference since 2019, so we do hope you can join us.
Topics covered will include:
The boarding balance
Striking the right balance
The adolescent brain: balancing hormones and risk
The safeguarding balance
Balancing online vs the real world
Mental health
Balancing the business of boarding
Strategic planning of boarding: operational vs strategic
Balancing UK vs International
The political landscape
The perfect balance: whole community in marketing strategy and content delivery
Embedding EDI into boarding
Prep boarding
Balancing the boarding team.
Speakers include:
Jo Cameron, Principal, Queenswood and Conference Chair
Jo Howarth, Founder and Managing Director, The Happiness Club
Professor Tanya Byron, clinician, journalist, author and broadcaster
Dale Wilkins, Director of Safeguarding, Professional Development and Accreditation, BSA Group
Nicky Bright, Founder of Bright Lead consulting
Jake Mills, CEO, Chasing the Stigma
Carla Shearman, Head of Boarding, Queen's College Taunton
Robin Fletcher, CEO, BSA and BSA Group
Ian Williams, Bursar, Queenswood
Simon Smith, Assistant Head, Boarding and Safeguarding Lead, Farringtons School
Lotte Tulloch, Head, Denstone College
Karl Hopwood, E-safety Expert
Caroline Nixon, International Director, BSA Group and Director, BAISIS
Hannah Hamilton, Director of Development and External Relations, Stamford Endowed Schools
Julie Robinson, CEO, Independent Schools Council
Suzanne Mowat, Director of Marketing, Admissions and Development, St Clare's, Oxford
Allison Onions, Head of Safeguarding, Mental Health Lead and Houseparent, St George's School, Windsor Castle
John Taylor, Foundation Head of Boarding, Mill Hill Foundation
---
BSA Discounted Hotels:
Hilton, London Heathrow Terminal 5
Please book via this unique booking link to make your reservation. The Hilton, London Heathrow Terminal 5 are offering accommodation for conference delegates at £165 per night, valid for June 6-8, 2022.  This discounted rate is applicable on Twin Guest Rooms and includes B&B.
---
In the meantime, if you have any questions, or would like any further information, please contact the BSA team at bsa@boarding.org.uk.
---
Find out more about our conference sponsor below:


Education Horizons is a global K-12 school management, teaching and learning software provider, servicing over 2000 schools and 1m+ users across 60 countries. Education Horizons brings together some of the world's best school support products across all areas of administration, finance, parent engagement, property, and asset management, teaching and learning and remote education.
Every day, we help schools succeed, build, nurture – To make students' lives better. School software created for all needs.
Our high-performance Synergetic, SEQTA, Engage and AssetWhere products are leaders in the market. They're proven, reliable and rich in features that schools need – reflecting decades of partnerships to make students' lives better.
Engage is a powerful and flexible platform delivering effective communication, control, reporting and insight across your school. An inclusive system, effortlessly linking admissions, academic and administrative departments, daily teaching, learning and activities operations, with seamless accounts management for staff, teachers and parents, and so much more.
Engage consists of three modules which are versatile and dynamic to fit around your requirements.
Engage School: The core management information system, enabling leaders, administrators and teachers to access insights into key student, parent and staff information across the platform.
Engage Teaching: An integrated toolkit supporting teachers with curriculum planning, timetabling, student registers, performance tracking, reporting, with remote access via the secure Staff Portal.
Engage Finance: The foundation of school financial management, combining billing, customisable student charges, debtors and full sales ledger capability.
To learn more about Engage visit: https://engagesmis.com/