BSA webinar – LGBT+ History Month and beyond
January 19 @ 2:00 pm

-

3:00 pm
Date: January 19, 2022
Time: 14:00 – 15:00
Cost: Full Member – £60 / Additional Full Member – £15,  Affiliate Member – £90 / Additional Affiliate Member – £20, Non-member – £120
Audience: Deputy Head, Inclusion Lead, Head of Boarding, Teaching and Boarding staff.
Platform: Zoom (online) This webinar will NOT be recorded.
---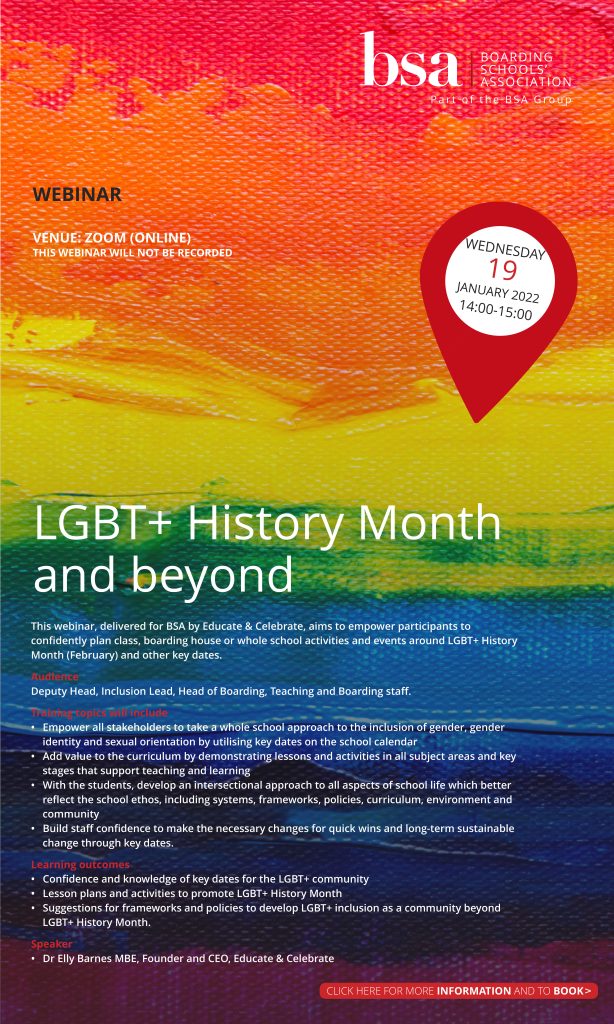 This webinar, delivered for BSA by Educate & Celebrate, aims to empower participants to confidently plan class, boarding house or whole school activities and events around LGBT+ History Month (February) and other key dates.
Training topics will include:
Empower all stakeholders to take a whole school approach to the inclusion of gender, gender identity and sexual orientation by utilising key dates on the school calendar
Add value to the curriculum by demonstrating lessons and activities in all subject areas and key stages that support teaching and learning
With the students, develop an intersectional approach to all aspects of school life which better reflect the school ethos, including systems, frameworks, policies, curriculum, environment and community
Build staff confidence to make the necessary changes for quick wins and long-term sustainable change through key dates.
Learning outcomes:
Confidence and knowledge of key dates for the LGBT+ community
Lesson plans and activities to promote LGBT+ History Month
Suggestions for frameworks and policies to develop LGBT+ inclusion as a community beyond LGBT+ History Month.
---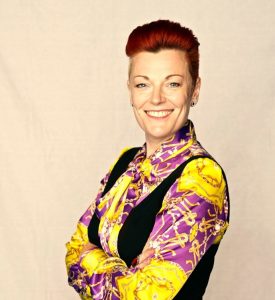 Speaker: Dr Elly Barnes MBE, Founder and CEO, Educate & Celebrate
Dr Elly Barnes MBE is a long serving teacher, founder and CEO of Educate & Celebrate, an LGBT+ education charity that empowers and supports leadership teams, governors, teachers, pupils and parents to build a future of inclusion and social justice in their communities.
Beginning in the UK in 2005 and spearheading the Department for Education HBT anti-bullying project, Elly went on to be voted No: 1 in The Independent on Sunday's Rainbow List 2011 for her commitment to LGBT+ in education and DIVA Activist of the Year 2018. Throughout the development of her pioneering PRIDE in Inclusion Award Programme, Elly formed a close partnership with Goldsmiths University of London and together with Dr Anna Carlile wrote a book called How to Transform Your School into an LGBT+ Friendly Place: A Practical Guide for nursery, primary and secondary teachers released in March 2018.